Today's health care providers rely on mobile carts to bring crucial technology directly to the patient's bedside. Capturing data at the point of care is a key component in efforts to improve patient safety and quality of care. Mobile technology needs mobile power. Mobile power needs a tool to manage it.
Powervar's new MPMView Software Suite gives real time information and alerts to keep a fleet of carts on the go. Now, management at any level is easier, from the nurse or clinician using one cart, to the IT manager and service technicians responsible for an entire fleet.
MPM ClinicView's user friendly tool bar gives easy access viewing to battery and charging levels, battery health indicator, as well as overload alarm and low battery warnings. A simple but useful dashboard for nurses, clinicians, physician assistant and other cart computer users.
Installs on any mobile medical cart PC
Operational with Windows, Linux or Mac
Reads mobile power status via USB
Convenient on-screen tool tray icons.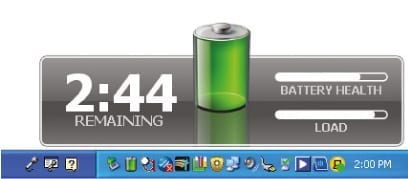 FleetView lets you list and sort your mobile cart inventory and select specific information to include in reports. You can also view mobile carts via multi-level facility maps, or type/name of alarm.
FleetView's elegantly simple rules engine called "Smart Groups" watches for changes in specific pieces of information and will send an email notify whenever conditions change. For example, pre-configured Smart Groups give you one-click visibility of present and future service needs.
Need Service Now Report – List of devices with active Service alerts – Battery or component faults
Need Service Soon Report – Report of devices that have battery life below some threshold to allow budget planning/service rotation planning for battery replacement.